Several reports indicate that an unidentified group of hackers are contacting unsuspecting victims with a threat to publish intimate materials from the victim if a ransom is not paid. The scam consists on revealing a real password used by the victim and thus catching the attention of the victim. The password is obtained from one of the previously hacked databases from popular online services that contain passwords associated with specific emails and usernames. The threat then continues with a story that the victim's equipment has been compromised, that the video camera of the equipment has been recording everything, and that the hacker has recorded intimate material from the victim. The hacker then threats to publish the materials unless a ransom in the form of cryptocurrency is paid.
The message looks something like this: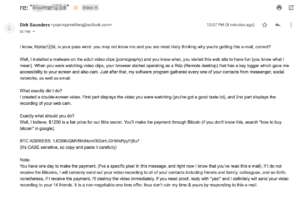 If you receive this message, do not respond.  If you have any questions or concerns regarding this type of scam, you may contact our specialists.